Oregon scientific head cam. Records to SD card so its all self contained, easy to copy onto your pc. Not the best quality more like a camera phone but this will mount where a phone wont

I had this set up to clip onto my crash bung but you can mount it anywhere you want with some imagination, i used this on the unity ride but its just sat there ever since.
Dirt, Snow, Rain or Shine... Capture all the action with the ultimate all-terrain digital camera. Water proof and compact all in one design using 2 AA batery's.
Open to offers over £50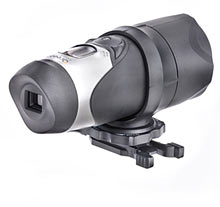 What ever adrenaline sport you do to get your kicks, Skiing, Snow Boarding, Mountain Biking, Sailing, BMX, Motocross or Surfing you can record all your action and share with mates with the...
Oregon Scientific ATC2K hands free action cam. This compact, water proof, shock resistant all-in-one digital video camera has been designed for hands-free use in the most extreme conditions. Simply mount the Action Camera on to your helmet, equipment or handlebars and you're away.
Weighing in at half a pound (with batteries), this hands-free action cam delivers full color digital video in 640 X 480 VGA at 30 frames per second, enabling you to share your video with the world through video sharing sites such as YouTube
ATC2K works seamlessly with most video editing software. Expandable up to 2GB, with a built-in SD card slot, the ATC2K it's the perfect partner for extreme moments.

_________________
One, one coco full basket! Every mikkle mek a mukkle!